Harding FPA Server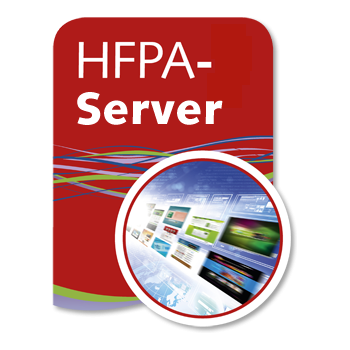 The Server edition is designed for larger organisations that need to integrate flash and pattern analysis across a network in an automated workflow for multiple editors.
Your Licencing Options
• Full perpetual licence with one time payment and no recurring fees, or
• Annual licence with monthly payments.
• 4K and 3D options available.
• Additional video streams can be added for even higher throughput.
The HFPA-X is designed to support automated workflows (e.g. working under Final Cut server, Avid Interplay, Signiant, Ardome, etc.) by providing watched folder support, etc. as well as interactive working from the editors desktop. It also has other ways (including using web services, XML tokens and user driven approaches) for submitting work.
The HFPA-X system is based on dedicated analyser nodes on a network providing PSE analysis reports to a number of small, less processor intensive cross platform 'Viewers' that are designed to reside on the editor's workstation. One of our driving forces for the HFPA-X is to put easier access to analysis and more and better information on what has gone wrong in the hands of the editor who has to fix the problems. The HFPA-X is also highly configurable to meet your exact needs and can be easily extended by adding more Analysis Channels and/or more Viewers to grow with your demands.
The HFPA-X can also work with the outputs from the HardingFPA tape-based systems to provide 'viewer' access to their analysis results at the editor's workstation. That way your existing investments in HardingFPA systems are still valid and there is a bridge between tape and file based workflows.
Usage

Multi User wide area workflows across a whole enterprise.

Tests file-based broadcast material for compliance with Ofcom guidance on Flashing Images and Regular Patterns in Television, or equivalent in other territories (e.g. ITU, NAB-J).

Platform

32-bit or 64-bit Windows 7 or later; Mac OS X 10.7 or later.

Resolution

Supports broadcast television material up to 1080p60.

Inputs

Files wrapped in MXF, MOV or AVI containers and QT Reference Files. CODEC support for AVC-Intra 100, Apple ProRes, IMX50, and Avid DNxHD and many others is provided.

Analysis Version

3.4 for files delivered under Digital Production Partnership Technical Delivery Standards; 2.5 for legacy SD content.

Features

Complete suite of HardingFPA tests; Luminance flashing, Red flashing, Extended flashing and Spatial Patterns analysis.

Faster than real-time analysis on two concurrent HD streams.

Supports automated workflows and direct interaction with editor workstations.

Provides job prioritisation with abort and re-prioritisation features.

Full graphical user interface for each user including: risk evaluation, diagnostic information, frame by frame and in-frame information, zoom and replay controls

XML, CSV, and PDF reports of failing sequences.

Workflow monitoring and system status displays.

PDF pass certificates.

Options

Standard configuration includes: HardingFPA X software suite on USB memory stick (network analysis engine supporting two concurrent streams), USB HASP content protection key, lifetime technical support and within-major-version software upgrades. Designed for installation on your own desktop edit workstations and network servers.

Optional: additional streams of concurrent network analysis.

Optional: support for 4K content.

Optional: support for 3D content.